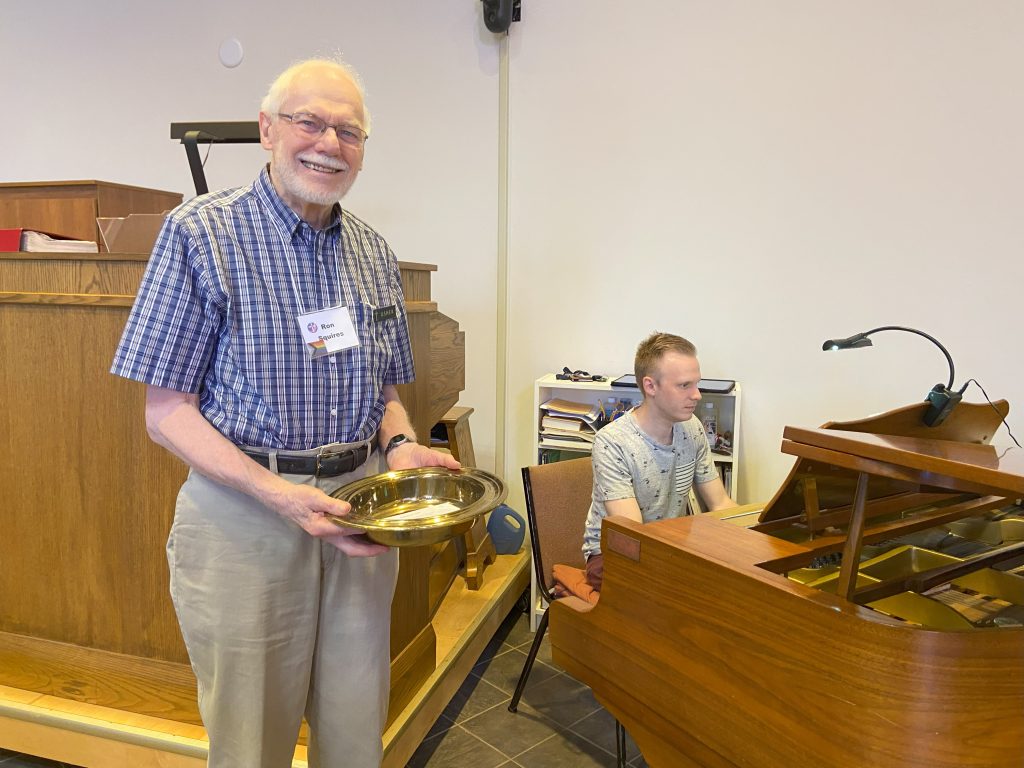 Your generous gifts and donations enable us to carry out God's work both locally and in the wider church community. Through our work, we strive to enrich food programs, building programs, LGBTQ2+ networks, right relations, refugee support, and much more. You can visit our Local and Global Partnership pages to learn more about our Faith in Action. Here are the many ways you can donate to support Emmanuel United Church:
By Offering Envelope:
Offering Envelopes are ideal for weekly or monthly churchgoers. They provide many benefits such as convenience, privacy or serving as a reminder. These can be placed in the Offering Plate located at the back of the Sanctuary.  If you wish to obtain Offering Envelopes, please contact the Envelope Secretary at envelope.secretary@emmanuelunited.ca.  Visitor envelopes are available in the Sanctuary for church visitors who may have forgotten their own envelopes.


By PAR (Pre-Authorized Remittance, or automated bank withdrawal):
You can arrange for automatic monthly gifts to be taken directly from your bank account. Under this arrangement, you don't need to worry about church envelopes or making an offering on Sunday morning since the process happens automatically. For further information and/or to set this up, contact envelope.secretary@emmanuelunited.ca.


By e-Transfer:
Through online banking with your respective bank, send an e-transfer to "Emmanuel United Church" (recipient) at the following email address envelope.secretary@emmanuelunited.ca. Emmanuel is registered for auto-deposit, so there is no need for a security question with this arrangement.  In the message box, indicate where you want the money to go; also, for non-members, please include your home address for receipting purposes.


By Credit Card or Interac through Canada Helps
You will receive an emailed tax receipt directly from www.CanadaHelps.org.


By cheque:
Make your cheque(s) payable to Emmanuel United Church. Include a note or indicate in the memo line what you would like your donation to go towards.  Mail your cheque, or series of post-dated cheques, to:  Emmanuel United Church, 691 Smyth Road, Ottawa, ON   K1G 1N7


By Gifts of Securities:
There are no capital gains on gifts of securities to registered charities. A tax receipt will be provided at the fair market value of the securities at the time of the transfer.
Gifts that arrive without a designation will generally go to the General Fund (including Mission & Service Fund), which is our primary operating fund.  If you wish to designate some, or all, of your gift for a particular fund or project, please indicate accordingly when making your donation.
Simplify Your Celebrations:
When you want to show appreciation to someone or recognize a special achievement, you can choose to donate to the "Simplify Your Celebrations" fund. Contributions to "Simplify Your Celebrations" can be directed to either the General Fund or the Capital Fund. An acknowledgment is sent to the person(s) being appreciated or recognized, and your recognition will be published in the subsequent monthly packet. If desired, your recognition will be mentioned in the following monthly packet. 
Memorial Fund:
Donations can be made to the Memorial Fund as an expression of love and gratitude in memory of a loved one or friend.  An acknowledgment will be sent to the family and your remembrance will be published in the subsequent monthly packet.  The funds raised in the Memorial Fund support various projects of the church such as paying for postage for parcels to our post-secondary students, wool for prayer shawls, various items for the kitchen, materials for hanging quilts, the rebinding of hymnals, etc.
Legacy Gifts:
A gift in your will or other type of legacy gift can provide support for the church, or a particular program, beyond your lifetime. Such a gift can provide stable funding for the future or provide the opportunity for further outreach programs.  There are several types of Legacy Gifts, each with different benefits to you and the church as well as different tax and financial implications. We encourage you to seek independent financial advice about any gift, and to discuss this information with the members of your family who should be made aware of your decisions.
Emmanuel United Church is a registered charitable organization (Charitable Registration Number:  11889-9368-RR0001).  Income tax receipts for all donations are generally prepared as of December 31 and distributed prior to the end of February in the following year.